About Us
Friendly customer service and top quality printing put Markell Printing at the top of any business' list. No matter what your company needs, our art and design department can assist you in any of your needs.

A wide range of businesses such as banks, medical practices, non profit organizations, churches and all types of service professions call upon our help to create custom designs.
The story of Inky
---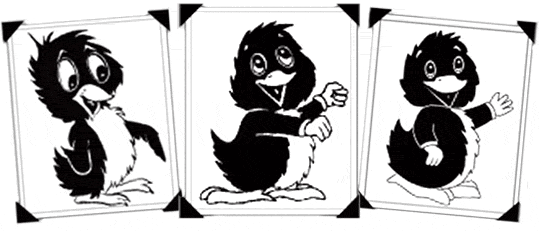 The original "Inky"
"Inky" was transformed to this
Computer drawn "Inky"

From a small business that started in the garage of Bob Forrester's parent's house, to a family run company with its own mascot.

Over the years "Inky" has evolved from a scruffy and pitiful (but cute) little thing to a colorful mature figure. Inky has an extensive range of hobbies and interests. He is knowledgeable and well traveled. We have used him in almost all marketing.

"Inky" has been a roller skater, an Indian at Thanksgiving, a swimmer, a chef, and more!